October, 2022
Rigorous audit validates DxTerity Platforms for Diagnostic and Clinical Data as a trusted laboratory and data partner for clinical health care delivery to physicians, patients, and pharmaceutical industries.
Los Angeles, October XX, 2022 DxTerity Diagnostics, a leader in genomic immune-mediated diagnostic technology, has successfully undergone an audit process and earned its System and Organization Controls (SOC) 2 Type 2 Attestation. This standard is key for DxTerity because of their direct-to-patient clinical study platform which is being utilized to pioneer the use of RNA-based immune system profiling to better understand the root causes of autoimmune conditions. Through these studies and partnerships with the pharmaceutical industry, DxTerity is helping to develop better diagnostics, prognostics, and targeted therapeutics, leading to improved health outcomes.
The audit was conducted by Armanino LLP in accordance with the requirements of the American Institute of Certified Public Accountants. SOC 2 Type 2 is considered the gold standard for data security and provides companies with assurance that DxTerity complies with stringent industry security standards.
The auditing process included an in-depth review of company policies and procedures for data handling, tests of the organization's security controls, employee interviews, a walkthrough of the office and a guided overview of the data center spaces. The scope of the audit provided in depth review of the diagnostic cloud platform, DxReach, for support of digital health initiatives in remote clinical trials and physician and patient data delivery. Additionally, the scope included all internal operations of DxTerity's ISO 13485 product development and CAP CLIA laboratory requirements. This kind of audit ensures that service providers securely manage data to protect the interests of the organization and the privacy of clients. For security-conscious businesses, SOC 2 Type 2 compliance is a necessary requirement both internally and externally.
DxTerity's CFO and SVP Business Development James Healy said, " Achieving SOC 2 compliance is a critical step in building trust with our clinical partners and customers and providing assurance to our Biopharmaceutical partners for our health data security measures."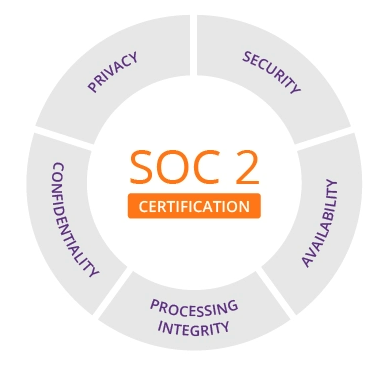 About DxTerity
DxTerity Diagnostics is an ISO 13485-certified genomics company with a CLIA-licensed, CAP-accredited laboratory based near Los Angeles, CA. DxTerity Diagnostics develops easy-to-use, fast, and affordable genomic tests for disease diagnosis and disease monitoring. For more information, please visit www.dxterity.com and follow us on //@DxTerityInc">Twitter, Instagram, Facebook, and LinkedIn.
Contact DxTerity Diagnostics Inc.
Name: Mark Gersh
Phone: 310-537-7857
Email: This email address is being protected from spambots. You need JavaScript enabled to view it.