Clinical trial results
In 2017 DxTerity began the journey of bringing precision medicine to autoimmune diseases with the development of the Modular Immune Profile (MIP) test, designed to measure the expression of immune system related genes and how interrelated immune pathways change in response to treatment.

EMPOWER Clinical Study
The Empower study (Evaluating Multiple Sclerosis Patients ShOWing a GEnomic Signature of Therapy Response) was developed to assess an at-home blood sample collection test with the goal of helping doctors monitor Multiple Sclerosis (MS) disease activity and response to treatment at a biological level.
Outcomes
Strong correlation between B-cell levels and fingolimod and ocrelizumab treatment response.
Identified subset of patients that showed inadequate/unusual biological response to fingolimod and ocrelizumab treatment.
Validated ability to assess Type-1 Interferon (IFN-1) response to interferon beta-1 treatment.

Lift Clinical Study
The Lift (Lupus Interval Monitoring to Manage Disease Flare and Enable Treatment Optimization) study was developed to assess an at-home blood sample collection test with the goal of helping physicians monitor lupus disease activity and measure response to therapy.
Outcomes
Lupus patients are much more likely to have high IFN-1 levels.
High IFN-1 levels correlate with early age of diagnosis and more severe disease.
African American, Hispanic and Asians patients are 3x more likely to be IFN-1 High than Caucasians patients.
Long-term belimumab correlated with lower B-cell levels.
Additional Outcomes
Presented groundbreaking findings at the annual College of Rheumatology meeting
DxTerity and Oklahoma Medical Research Foundation (OMRF) published study results showing the correlation between Type-1 Interferon levels (IFN-1 High versus Low (Normal)) and a 3x increase in the risk of SLE patients developing Lupus Nephritis
DxTerity's MIP platform has been utilized in numerous pharmaceutical clinical trials for new drug development
Studies utilizing MIP, funded by the National Institute of Health and Lupus Research alliance are scheduled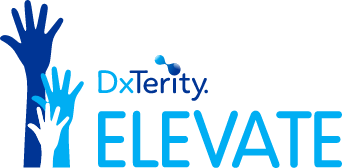 Lupus Clinical Study
ELEVATE (Empower Lupus Erythematosus Patients Via Allowing RemoTe Evaluation) is a study powered by participants who have Systemic Lupus Erythematosus (SLE). It is an observational study that uses participants' health information and a few drops of blood to help better understand what it means to live with and manage Lupus. ELEVATE is sponsored by DxTerity Diagnostics. DxTerity researchers are looking to find a better, easier, and more convenient way for people living with lupus to track and manage their disease activity.
Sign up for our ELEVATE Clinical Study today