Interferon-1 Test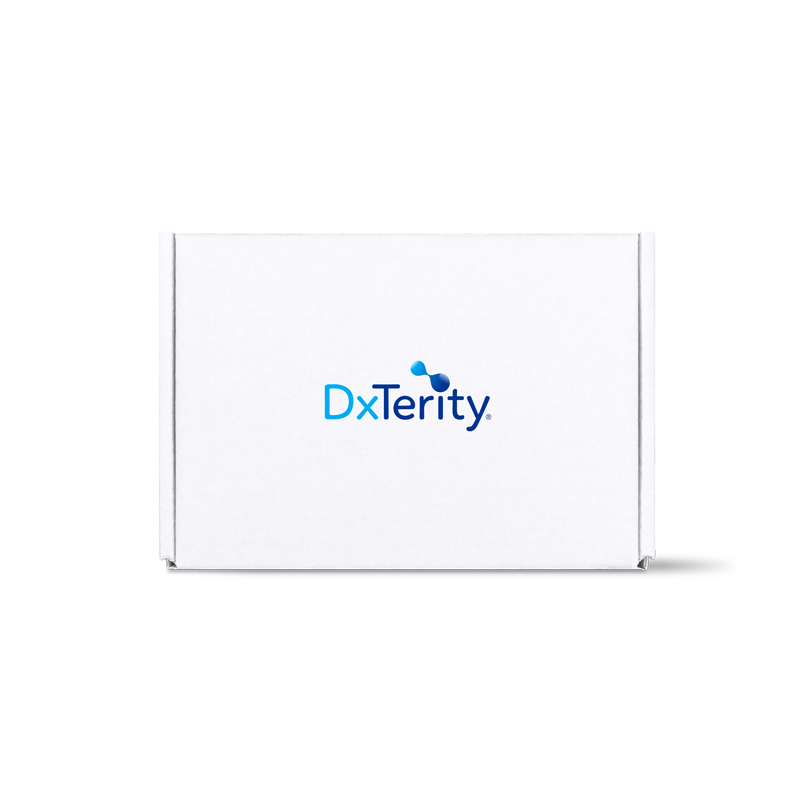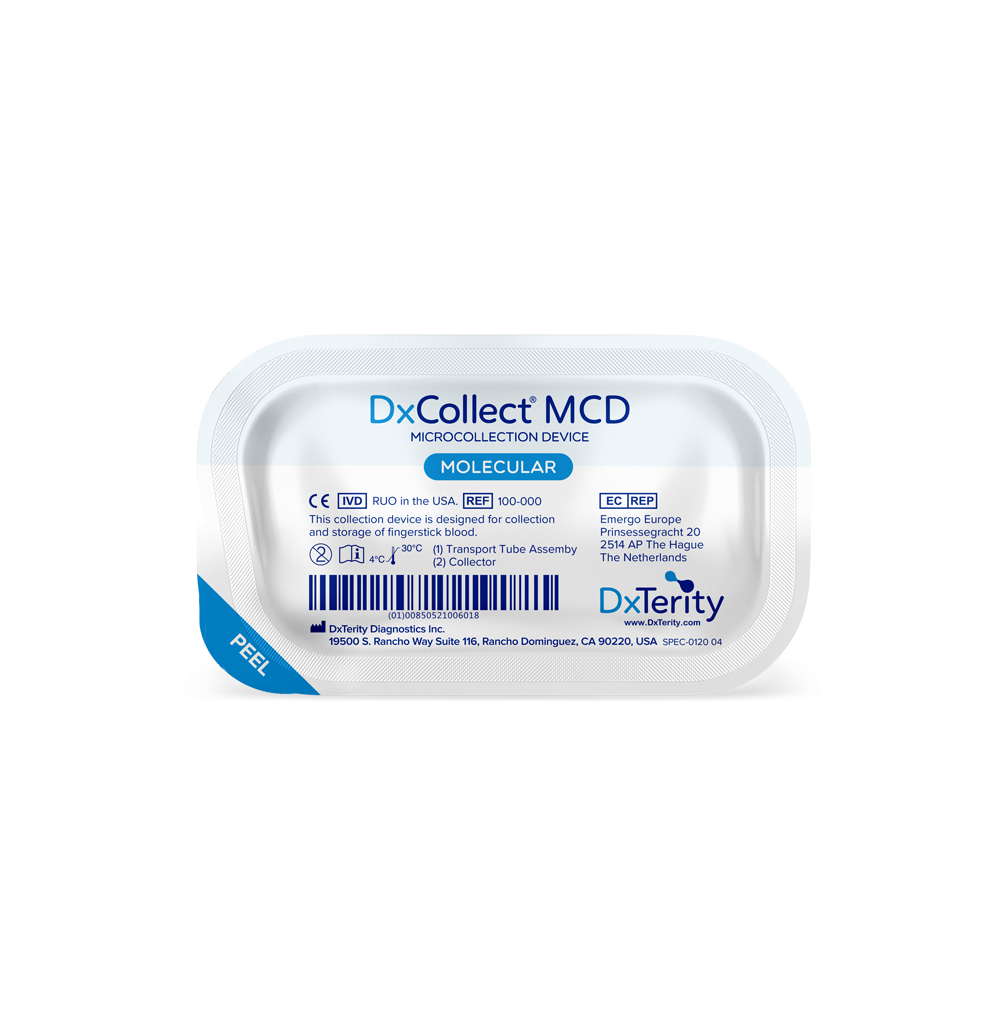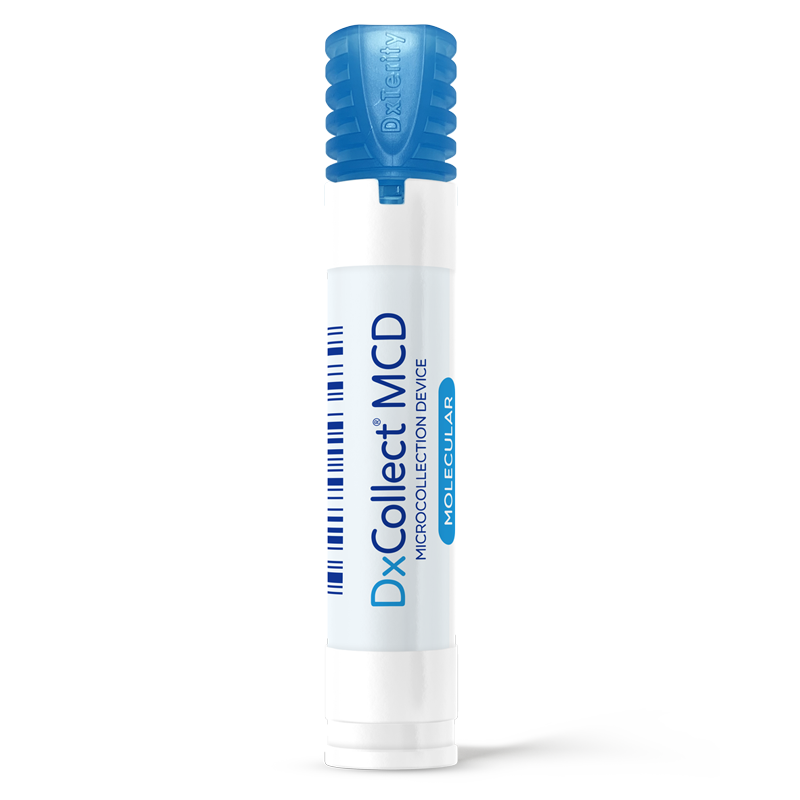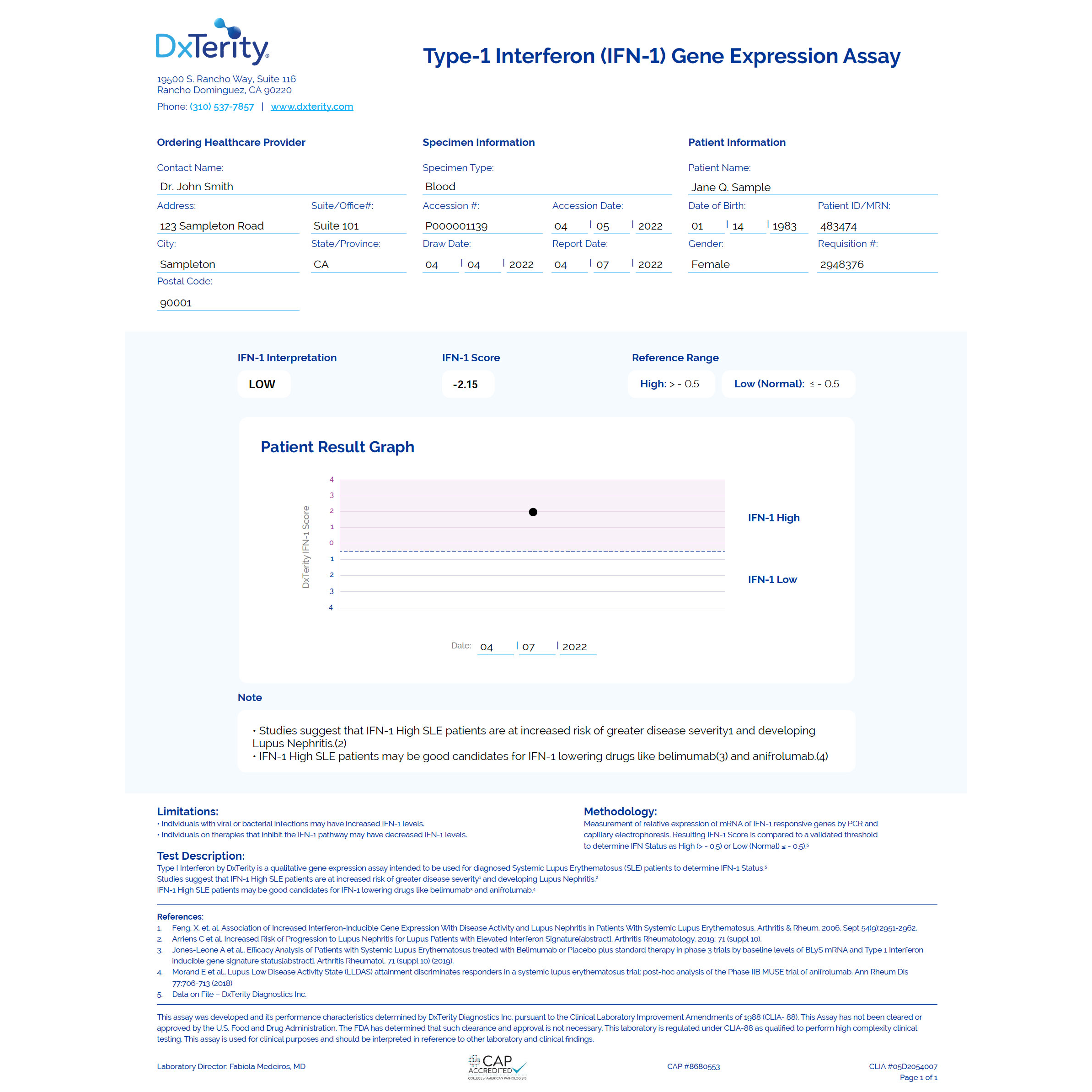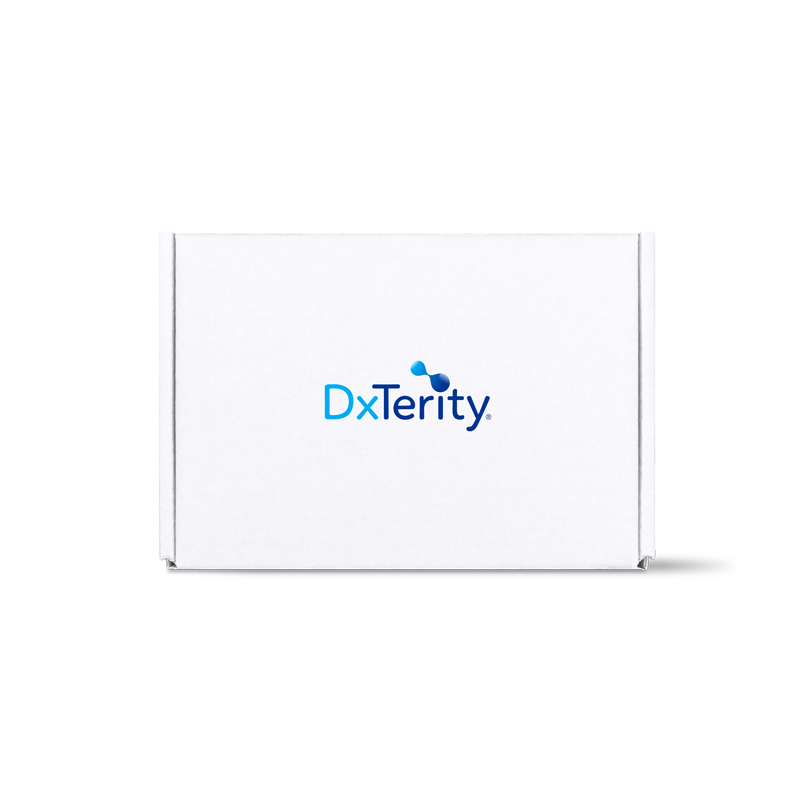 Rollover to enlarge image
provider solutions
Interferon-1 Test
IFN-1 status may identify patients at risk for more severe disease. DxTerity's IFN-1 Test is a qualitative gene expression assay for determining if an SLE patient has High or Low Type-1 Interferon activity.
First and only available IFN-1 gene expression assay
Measures 4 mRNAs associated with IFN-1 activity
Convenient patient blood collection device available
Fingerstick blood and phlebotomy samples accepted
HIPAA-compliant reporting
Whitepaper: Type-1 Interferon Test For Risk Assessment
To learn more about IFN-1 and ways to identify patients that might benefit from targeted therapies, read our new white paper that discusses the:
Increased disease severity and risks among SLE patients with high IFN-1 levels
Correlation of IFN-1 expression to specific patient sub-populations
Importance of IFN-1 testing in determining disease state and/or response to therapy
Reliable testing supports better insight for management of SLE
Precision medicine for Lupus care begins here.
Reliable testing supports better insight for management of SLE
Precision medicine for Lupus care begins here.
Precision medicine for autoimmune disease
Precision medicine uses an individual's genomic information, protein biomarkers, environment, and lifestyle to determine the best course of treatment for their disease.
Unlike precision medicine for cancer which primarily relies on DNA mutation testing to make decision on treatment, autoimmune disease looks at RNA, because its dynamic nature provides insight into biological pathway activity that drives disease.
A therapeutic evolution
Autoimmune diseases have traditionally been treated with broad scale, non-specific immunosuppression by corticosteroids. However, new treatments look to specifically target the biological pathways that are responsible for developing the autoimmune disease in the first place. For example, a recently approved therapy specifically blocks Type-1 Interferon signaling, and lowers inflammation without the use of steroids. Other therapies target the B-Cell Activating Factor (BAFF) on B-Cells and a frequently prescribed monoclonal antibody treatment targets the tumor necrosis factor which is central to Rheumatoid arthritis.
IFN-1 and clinical utility
Type-1 Interferon (IFN-1) is a well-studied biomarker with a strong correlation to SLE disease pathogenesis and severity.1 It is estimated that more than 50% of SLE patients overexpress IFN-1.2 Over-expression of IFN-1 has been shown to be more likely to have severe disease,8,9 increased risk of developing Lupus Nephritis, potentially increased risk of pregnancy complications like Preclampsia4, and decrease likelihood of responding to standard of care.
| Variable | Hazard Ratio | P-value | % IFN HIGH | % LN | N (total) |
| --- | --- | --- | --- | --- | --- |
| Gender | | | | | |
| Female | 0.48 | 0.0400 | 55.0 | 26.1 | 180 |
| Male | 2.08 | 0.0400 | 66.7 | 52.4 | 21 |
| Age at SLE diagnosis | | | | | |
| Per year increase in age of SLE diagnosis | 0.96 | 0.0005 | 56.2 | 28.9 | 201 |
| Race | | | | | |
| White/Caucasian | 1.00 | NA | 41.1 | 18.9 | 95 |
| Asian | 1.97 | 0.1275 | 92.3 | 69.2 | 13 |
| Black/African American | 0.97 | 0.9317 | 61.7 | 29.8 | 47 |
| Hispanic/Latino | 1.62 | 0.2410 | 73.9 | 43.5 | 23 |
| Native American | 1.11 | 0.8227 | 69.6 | 30.4 | 23 |
| Interferon Status | | | | | |
| IFN HIGH | 3.12 | 0.0019 | 100 | 42.5 | 113 |
| IFN NORMAL | 0.32 | 0.0019 | 0 | 11.4 | 88 |
Table1: Relative Distribution of IFN-High/-Low and Percent Agreement. Hazard Ratio of Lupus Nephritis development in Lupus patients
DxTerity's test measures the gene expression activity of IFN-1 from a small amount of blood and reports results as High or Low. Insight into your IFN-1 activity levels may provide information to help guide treatment decisions. Patients with higher IFN-1 levels have been shown to have an increased response to IFN-1 targeted therapeutic pathways.7,8
DxTerity's IFN-1 test provides cost-effective analysis of this key biological pathway which may improve patient risk assessment and management, help to identify the best therapy for an individual, and monitor therapeutic response.

Clinical studies drive precision medicine
Lupus presents in many different ways. Each individual's lupus journey is unique and influenced by a multitude of factors. The goal of precision medicine is to understand the underlying causes of these differences.
The ELEVATE Study will examine patient specimens for biomarkers that may be associated with various forms of disease. The knowledge gained by the ELEVATE Study may help to identify groups of SLE patients for which targeted treatments may be beneficial, as well as providing improved prognostic and disease activity predictors. If you have patients who would benefit from this study, please contact us at This email address is being protected from spambots. You need JavaScript enabled to view it..
DxTerity's IFN-1 Test helps assess risk of progression to Lupus Nephritis. The IFN-1 test is a qualitative gene expression assay that measures the expression of 4 mRNAs associated with Type-1 Interferon activity from extracted RNA or directly from stabilized whole blood. The mRNA results are used to calculate a composite IFN-1 score, which is compared to an established threshold that determines an IFN-1 classification of Low (Normal) or High.
This test was developed and validated by DxTerity Diagnostics Inc. This assay has not been cleared or approved by the US FDA. All testing is performed by our CLIA-registered, CAP accredited laboratory, qualified to perform high-complexity testing. This test is to be usedin conjunction with other laboratory and clinical findings to guide treatment.
Clinical relevance of Type-1 Interferon
Type-1 Interferon (IFN-1) activity is central to how your body defends itself against viruses and pathogens, however persistent over activity has been shown to play a central role in Systemic Lupus Erythematosus (SLE) disease development and progression.1
More than 50% of SLE patients overexpress IFN-1 (versus 5% of the overall population), and this over expression has been linked to increased disease severity.5,6,11
Patients with high IFN-1 are 3X more likely to develop Lupus Nephritis.2 DxTerity's IFN-1 test has been shown to be a key prognostic marker for SLE patients developing Lupus Nephritis (p = 0.0008).4
SLE patients are at a greater risk of complications during pregnancy, including the potential
for Preeclampsia.7
IFN-1 High patients are more over 3X less likely to achieve remission as defined by LLDAS than IFN-1 Low on standard of care treatment.15
SLE patients with elevated IFN-1 activity have more active disease.6,11
The IFN-1 immune pathway is also a common therapeutic target13,14 for drugs such as anifrolumab.
The DxTerity IFN-1 test can provide information regarding a patient's specific IFN-1 level, and along with clinical assessment and additional testing, results may be used to help determine appropriate therapy.
2019 study using DxTerity IFN-1 Test evaluated 201 SLE patients and their time from initial diagnosis to development of LN1
Duration between SLE diagnosis and LN development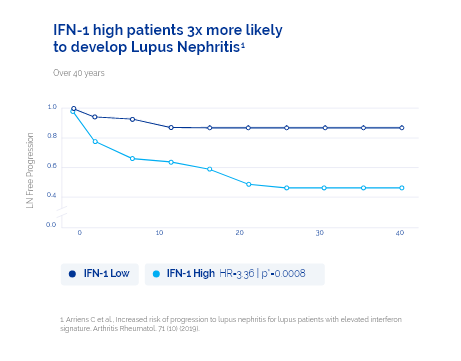 Test method
The DxTerity IFN-1 Test is a qualitative gene expression assay for determining Type-1 Interferon activity.The DxTerity IFN-1 Test uses Chemical Ligation Dependent Probe Amplification (CLPA) technology and is performed directly on DxCollect® stabilized whole blood. The gene expression levels are analyzed by capillary electrophoresis and the IFN-1 level is calculated relative to the average of three control genes.This data is used to score and classify IFN-1 levels as High or Low (Normal).
Test results
DxTerity IFN-1 Test will determine if the samples submitted for testing shows High or Low Type-1 Interferon gene expression levels.
This information can provide a baseline value of IFN-1 activity and, in conjunction with clinical assessment and other laboratory tests, may provide information to help determine appropriate therapies for patients now and in the future as more therapeutics become available.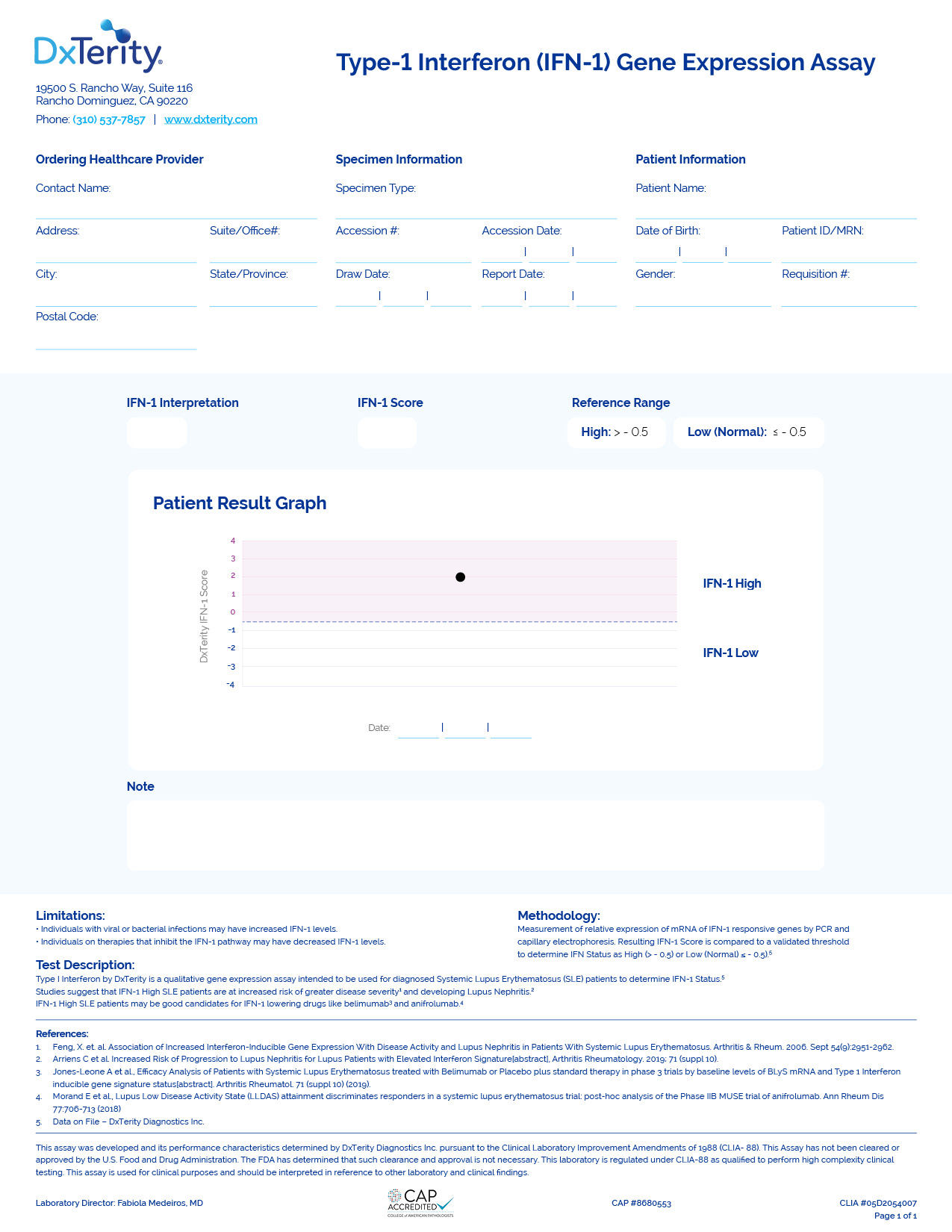 Below are additional helpful resources for you.
Set up your account
Make future ordering easy by setting up your provider account today.


Online

Download and fill out the simple PDF form. Return it to DxTerity via email and our Customer Service team will set up your account.
Email us: This email address is being protected from spambots. You need JavaScript enabled to view it.
By phone

Call DxTerity's Customer Support team to establish your account.

Call us: +1-424-758-0100
Order collection kits
Once your account has been established, you or a member of your staff may begin ordering.



Order online
Login to your account to place your order. Orders will be process within 24-48 hours.
Sign in
Order by email
Contact our Customer Support team by email to place your order
Email us: This email address is being protected from spambots. You need JavaScript enabled to view it.


Order by phone
Call our Customer Support team anytime to place your order, Monday - Friday, 9 a.m. - 5 p.m. PST.

Call us: +1-424-758-0100
Register your test
Log into your account. To register a Molecular Micro Collection Device, type in the 7-character Device ID. The 7-character Device ID must be entered correctly to process your test.
For a Molecular Blood Collection Tube, contact our Customer Support team for instructions regarding test registration and shipping.
Sign in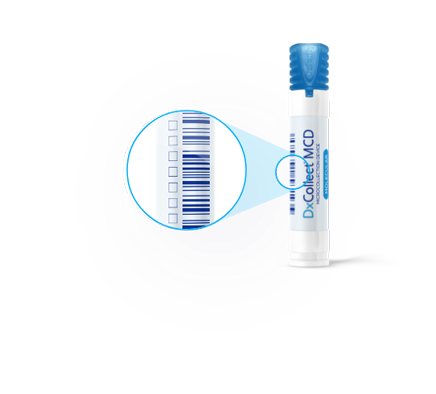 Collect and ship
specimen sample
Collect specimen and ship the sample to our lab using the pre-paid return label included in your kit.
Get your results
Once your sample has been received at our lab, we will run your test and will report you results through the secure portal. You can expect results within 5-7 days.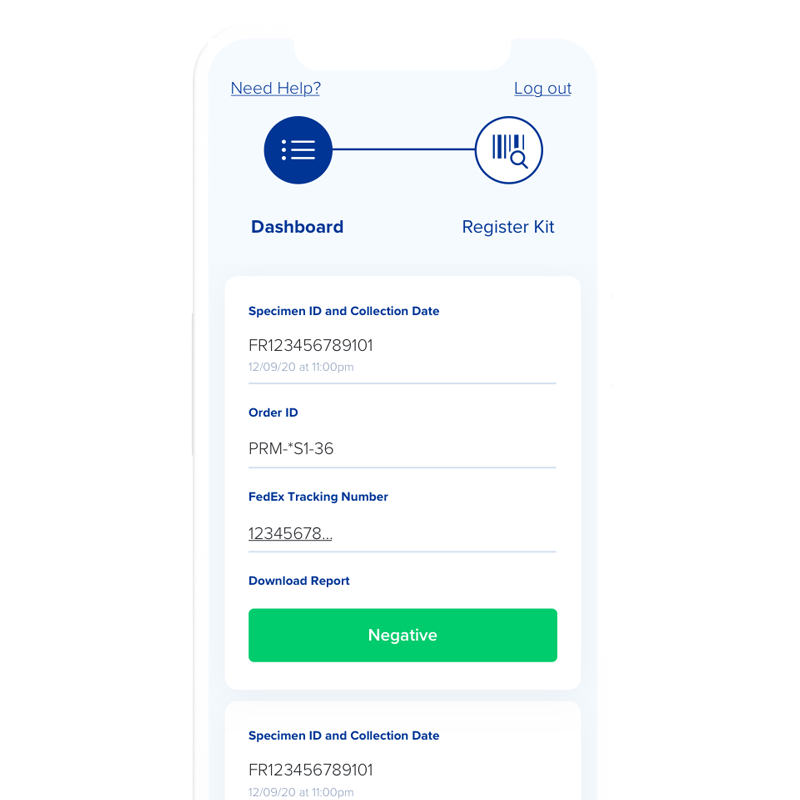 How can we help?
If you need assistance setting up or accessing your account please
email This email address is being protected from spambots. You need JavaScript enabled to view it. or call ​+1-424-758-0100.
For other inquiries, please contact us.